The Connect.Tech 2021 call for proposals is now open !

Before submitting a talk, please review these guidelines.

The conference will be in Atlanta November 8-10, 2021

CFP DEADLINE: JULY 15

Notifications for acceptance will go out on a rolling basis; submit early and often!

Rejection notices will go out on August 1 or earlier.

We look forward to reviewing your submissions!

NON-US SPEAKERS: Due to the uncertainty over international travel, we are unable to commit to international speakers getting accepted. You may buy a ticket to attend the conference, and obtain a refund within 4 weeks of the event if international travel between your country and the USA is not possible. Unfortunately, it would be logistically difficult for speakers, whom we expect to be present at the conference once accepted, to withdraw that close to the actual event.

---
PLEASE TAKE 30 SECONDS TO REVIEW THESE GUIDELINES!
Once you've signed up on the CFP site, click 'Create New Event'. Make sure you also mark your availability.
Select the track accordingly in the CFP system.
Presentations (lectures) are 50 mins + 5 min for questions. Break apart longer sessions into PARTS I, II, etc. Longer, deep dive sessions, are given priority.
As we are a low-cost conference, we have limited resources for covering presenter travel. Please ask your company if they can cover your travel first. Please mark accordingly if need travel reimbursement (see below).
DO NOT CHANGE YOUR "COVER TRAVEL" SELECTION ONCE YOUR SESSION HAS BEEN ACCEPTED! WE GET A NOTIFICATION WHEN THIS FLAG HAS BEEN FLIPPED, AND WE WILL RE-EVALUATE YOUR ACCEPTANCE! If you need to change this flag, please email us first!
Please email hello@Connect.Tech if you have any questions.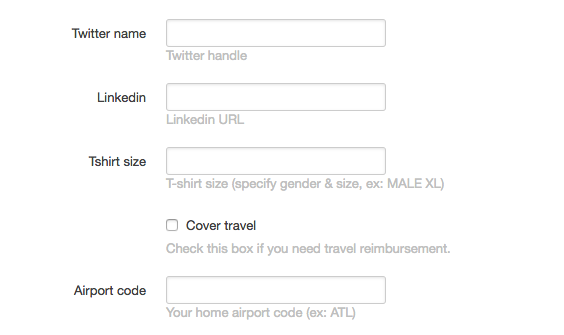 Step 1
While creating your profile, be sure to fill in these sections.

Step 2
This CFP system calls a presentation/session an EVENT. Create a new one for each of your proposed talks.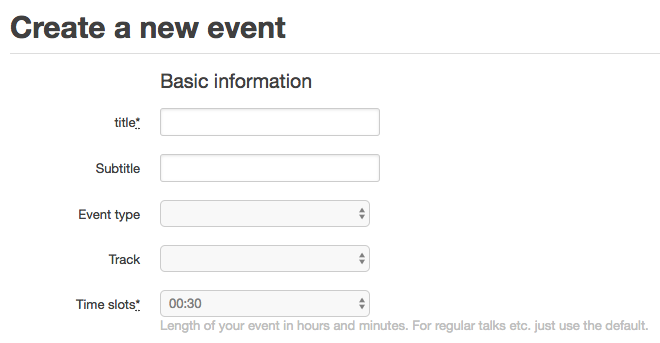 Step 3
Set Event Type to lecture. Be sure to pick the correct topic area/track also.
Step 4
Finally, set your availability for presenting. We can not guarantee we will be able to fit your availability, but we'll do our best.